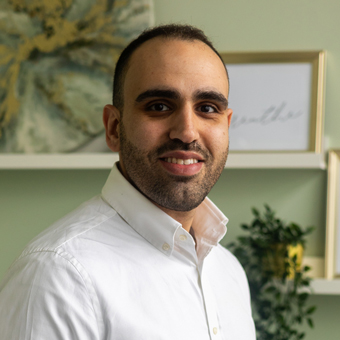 BDS (Hons), MFDS RCSEd, MFDS RCPS Glasgow, MCGDent, CertRest RCSEng
GDC No. 277143
Hisham is now pursuing a 4-year double master's degree at the prestigious King's College London in Fixed and Removable Prosthodontics (MClinDent Pros), which is one of the most intensive programmes in restoring and replacing teeth. He has acquired an international and multicultural experience throughout working and training in Cairo, Dubai, and Saudi Arabia.
Hisham is an advocate of conservative dentistry and digital smile designing and has attended various courses by prominent dentists such as Christian Coachman and Pascal Mange.
He has been appointed as a member of the Royal Colleges of Surgeons of England, Edinburgh, and Glasgow after completing the MFDS diploma examinations. He is also a member of the British Society of Prosthodontics. Moreover, he has recently completed a two-year postgraduate training in Aesthetic and Restorative Dentistry of the Faculty of General Dental Practice and a postgraduate certificate in Restorative Dentistry awarded by the Royal College of Surgeons of England.
Hisham is passionate about delivering patient centred and personalised treatments to craft charming smiles with minimally invasive techniques. He is a good listener, and his top priority is to make his patients' journey as comfortable and enjoyable as possible.
Hisham is also an Invisalign provider and has a special interest in restoring worn teeth and full mouth rehabilitation.
In his spare time, he likes to play basketball, keeping fit by working out and weightlifting and is a big fan of video games!